Some of you may not know that at Yes.Fit we have a virtual race that can keep you entertained all year round. These year-long races are based on your longer-term focused goals. We have other races like Beauty and The Beast and The Great Smoky Mountains that are focused on more immediate and short-term goals.
Our theme for 2021 is The Great American Adventure where you will be in for some great entertainment and education along the way! Below are your top questions answered based on feedback we've seen.
What is this race all about?
The Great American Adventure Virtual Race let's you explore the 48 contiguous states, beginning and ending at the Nation's Capital in Washington, D.C.
How long is the race?
We got a lot of feedback last year from many users wanting a longer race, so we made our 2021 virtual race 13,669.8 miles.
When will I be able to start recording my workouts?
Workouts will start recording on January 1, 2021 and end on December 31, 2021. You can join other races while working on this event. All miles accrued in other races will automatically be applied to this event.
When does the registration close for this virtual race?
Race Registration closes on 4/1/2021 so sign up today and get started!
Do I have to do all those miles to complete the race?
Oh goodness, no! The theme of these year-long races are all around the theme of "How Far Can YOU Go?" This challenge is totally up to how far you wish to take your motivational journey. We're aware that this race is extremely challenging to finish, but that's what it is - a challenge that YOU customize.
At Yes.Fit, we know fitness is not a destination but a journey in which everyone is on a different path. If you're new to fitness or have been on the journey for some time, we are here to make your fitness adventure motivating, convenient, and most of all – fun!
What are Mirror Miles?
The Great American Adventure mirrors miles from other races. Those are the purple pins on the map. These mirrored miles will not save in a list like other races but just pins. If you manually enter your miles, they will be saved in a list and on the map as a red pin.
Please be advised that if you are mirroring miles from other races and manually adding to this race you are double-counting your miles. If you click the blue box button below this it will keep these miles from double counting to your year-end total. If you tap on the pins that appear on the Great American Adventure map, an image of your location in the race will appear as well as how/where the miles are saved from.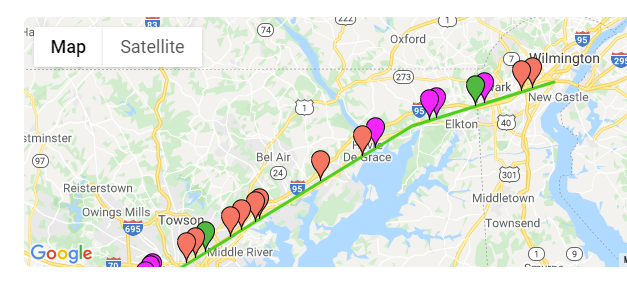 What will I get after I finish the race?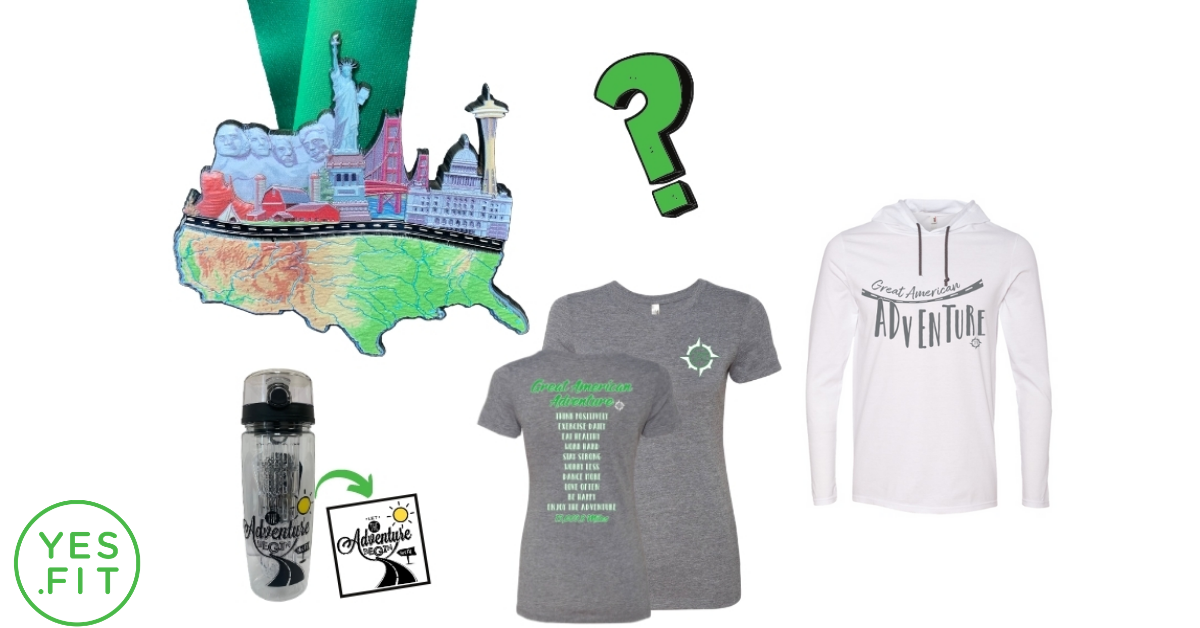 Reward package includes:
A t-shirt and fruit-infused water bottle that will ship to you before completing your adventure.
One mystery gift to be sent out around June/July to keep you motivated and one awesome finishers medal to ship to all paying participants at the end of the year.
Also available for purchase is a super comfy lightweight hoodie, perfect for layering on your outdoor adventure!
Water Bottle Text: Let the Adventure Begin
Back of Shirt Text: Great American Adventure, Think Positively, Exercise Daily, Eat Healthy, Work Hard, Stay Strong, Worry Less, Dance More, Love Often, Be Happy, Enjoy the Adventure, 13,669.8 miles
Check out the trailer!